The STD Prevention Conference virtual platform is now live.
Access the virtual platform here.
Meet the Experts
Want a chance to talk to a renowned STD expert over breakfast or at the end of a long day of conferencing? This virtual roundtable provides an opportunity to engage in small-group discussion, pose questions, and hear advice from some of the leading experts in our field. Eight experts with diverse experience, backgrounds, and areas of expertise will be available for informal discussion in separate breakout rooms. Topics covered will vary by expert, but all can include a discussion of career development and advancement.
Thank you for your interest in participating. Registration is now closed.
If you have any questions about the event, please contact
stdconf@cdc.gov
.
Monday, September 19, 4:30-5:30pm ET
Wednesday, September 21, 10:00-11:00am ET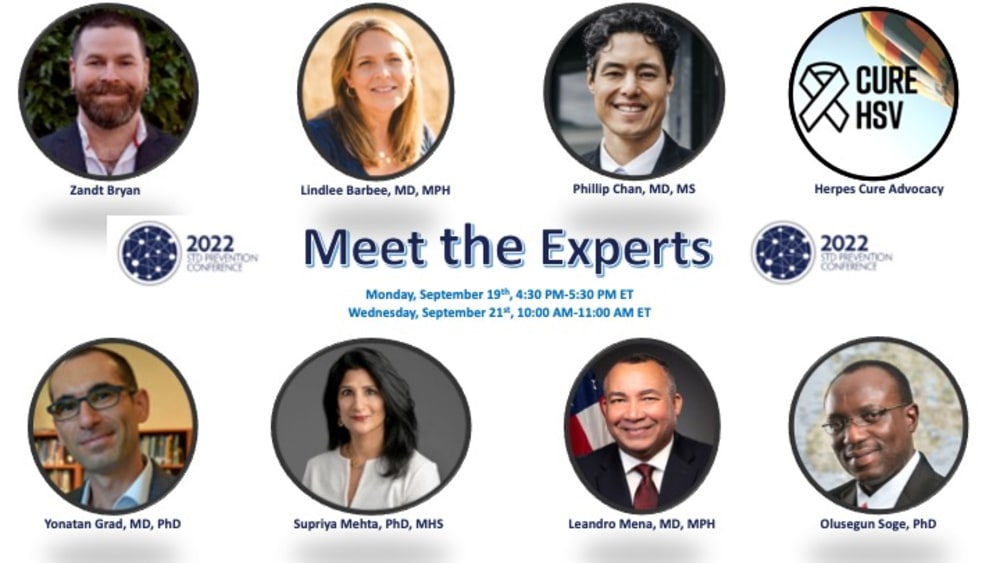 Bios of the Experts
Lindley Barbee
Lindley Barbee, MD, MPH, is the new Lead for the Clinical Team in the Clinical, Economic and Health Services Research Branch in the Division of STD Prevention at CDC. Prior to her transition to CDC, Dr. Barbee served as an Associate Professor in the Department of Medicine, Division of Allergy & Infectious Diseases at the University of Washington and was the Medical Director of the Seattle & King County HIV/STD Program's STD Clinic. Dr. Barbee's prior research has focused on clinical and epidemiological aspects of the prevention and control of sexually transmitted disease, with a particular focus on gonorrhea at the pharynx and rectum. Her research has explored STD self-testing, the natural history of gonorrhea and chlamydia at the pharynx and the rectum, and new treatments for antimicrobial resistant gonorrhea.
Discussion at this roundtable may include: clinical and epidemiologic aspects of STI prevention/control, extragenital infections, gonorrhea (including antimicrobial resistance in Neisseria gonorrhoeae), STD clinics
Zandt Bryan
Zandt Bryan is the Chair of the Board of Directors for the National Coalition of STD Directors and the Sexual Health and Prevention Program Manager at the Washington State Department of Health. Zandt has advocated for people's sexual health across two decades of work in HIV/STI prevention and treatment including roles as a disease intervention specialist, harm reduction volunteer, trainer and technical assistance provider, and program manager. In his current role, he provides oversight and technical assistance to HIV/STI prevention and treatment programs that ensure that people diagnosed with HIV and STIs have access to appropriate education, treatment, and medical care, and empower those who are at risk of acquisition of these conditions to rapidly access medical care and prevention services.
Discussion at this roundtable may include: culturally competent STD/HIV prevention; addressing health disparities; LGTB health
Philip Chan
Philip A. Chan, M.D., M.S., is an Associate Professor and infectious diseases physician at Brown University. Dr. Chan is Chief Medical Officer at Open Door Health, the state's only community-based LGBTQ+ clinic. Dr. Chan also serves as Consultant Medical Director for the Rhode Island Department of Health Division of Preparedness, Response, Infectious Disease and EMS (PRIDEMS). He is working with the Department of Health and other community organizations on several statewide initiatives related to HIV and other sexually transmitted infections.
Discussion at this round table may include: LGBT health, STI/HIV epidemiology, STD clinics, PrEP, home HIV testing
Yonatan Grad
Yonatan Grad, MD, PhD, is the Melvin J. and Geraldine L. Glimcher Associate Professor in the Department of Immunology and Infectious Diseases at the Harvard T.H. Chan School of Public Health. He earned his MD and PhD at Harvard Medical School, trained in internal medicine at Brigham and Women's Hospital and infectious diseases at Brigham and Women's Hospital and Massachusetts General Hospital, and did his research fellowship in the Center for Communicable Disease Dynamics. The Grad Lab studies how pathogens evolve and spread, working across scales from microbial genetics through epidemic dynamics, and with a goal of advancing clinical and public health practices. Projects center on the biology and epidemiology that underlies the emergence and spread of antibiotic resistance, with a focus on Neisseria gonorrhoeae, as well as on pandemic preparedness and response.
Discussion at this roundtable may include: genomics, microbiology, mathematical modeling, and epidemiological tools for studying the evolution of pathogens; Neisseria gonorrhoeae
Supriya Mehta
Supriya Mehta, PhD, MHS, is a Professor in the Department of Internal Medicine, Division of Infectious Diseases at Rush Medical College in Chicago, IL. Dr. Mehta leads and collaborates on clinical and community-based research that improves HIV prevention and sexual and reproductive health. Her research focuses on reducing sexually transmitted infections and vaginal and penile microbiome dysbiosis as co-factors. Her research is translational, and focuses on behaviorally mediated or modified aspects of microbiome health at the population level, for broader impact.
Discussion at this roundtable may include: vaginal/penile microbiome, STIs, HIV, adolescent sexual and reproductive health, infectious diseases surveillance, gonorrhea (including antimicrobial resistance in Neisseria gonorrhoeae), study design, global health
Leandro Mena
Leandro Mena, MD, MPH is the Director of the Division of STD Prevention at the Centers for Disease Control and Prevention. Dr. Mena comes from a background of clinical research and is a public health advocate with expertise in the prevention and clinical management of STIs and HIV. He has gained a wealth of experience in his nearly 30-year career in the fields of public health and medicine in academia, research, and professional association management. His interests include understanding the dynamics of STI transmission in racial/ethnic, gender, and sexual minorities, as well as the development and provision of culturally competent quality health services to these populations.
Discussion at this roundtable may include: culturally competent STD/HIV prevention; addressing health disparities; LGTB health
Olusegun Soge
Olusegun Soge, PhD, is an Assistant Professor in Global Health and Medicine (Allergy and Infectious Diseases), as well as the Director for the Neisseria Reference Laboratory in the Center for AIDS and STD at the University of Washington. Dr. Soge is a microbiologist with expertise in the molecular diagnostics of infectious diseases, molecular epidemiology, surveillance of antimicrobial resistance, and genetic characterization of antimicrobial resistance of sexually transmitted pathogens and other clinically important pathogenic bacteria. He is the co-PI for Strengthening the US Response to Resistant Gonorrhea in King County, WA, a CDC-funded multi-center surveillance and public health intervention project designed to rapidly detect and control the emergence and spread of antimicrobial-resistant Neisseria gonorrhoeae. Dr. Soge's research has focused on the surveillance and characterization of genetic mechanisms of gonococcal antimicrobial resistance, in vitro evaluation of novel antimicrobial compounds and fungal/plant extracts against multidrug-resistant Neisseria gonorrhoeae, and molecular diagnostics for sexually transmitted infections. He has longstanding collaborations with CDC, the State Department of Health-STD/HIV Programs in Washington, Oregon, Hawaii, California, Alaska, and their Public Health Laboratories, to monitor trends in gonococcal antimicrobial resistance and provide data to guide evidence‐based selection of effective treatment regimens for gonorrhea.
Discussion at this roundtable may include: microbiology of STIs, molecular biology, molecular epidemiology, Neisseria gonorrhoeae, STI diagnostics, and surveillance of antimicrobial resistance in Neisseria gonorrhoeae and Mycoplasma genitalium
Herpes Cure Advocacy
A representative of Herpes Cure Advocacy (HCA) will provide insight into non-profit work in STDs. HCA is a grassroots, membership-based, international advocacy organization of 14,000 members with a goal of cure, treatment, and prevention for Herpes Simplex Virus types 1 and 2. It includes a Patient Advisory Board and a Medical Advisory Board. HCA leverages the power of patient advocates, health care providers, federal government entities, and NGOs, to create change in the field of herpes.
Discussion at this roundtable may include: STD non-profit organizations, herpes, advocacy
Event Information
September 19-22, 2022
Virtual
All session times are Eastern Daylight Time.
Register
Important Dates
October 23, 2022
Continuing Education (CE) Submission Deadline
Questions?
For inquiries, please contact:
stdconf@cdc.gov
.